Venice and the Art Biennale were on my list and since I was in the neighborhood anyway (in Barcelona for a conference)...it seemed prudent to take a side trip. At least this was my rationalization...admittedly, I am fairly adept at rationalizing travel...or so my husband tells me. Ha Ha! Since the hubster was unavailable, I asked my sister-in-law and niece if they might be interested given we've been talking about Italy FOREVER and my niece is an art education major making the art biennale an 'educational' opportunity. And so it was that three Crumpton women traveled to Venice Italy for a week of exploring, art, and eating.
The plan was that I would catch an early flight from Barcelona and meet them when their flight from the US arrived. As luck would have it - the baggage carousel where my bag arrived was next to the baggage for the US flight where they stood waiting. I don't know what the odds are for this to happen but...that was my first indicator of how cool this trip would be! We grabbed bags and headed to the Alilaguna public transport (Tip 1) - a boat from San Marco airport on the Blue Line to Venice. You exit the airport with your luggage in tow and then walk roughly 10 minutes to the pier to catch your transport. Just follow the crowd and keep walking until you hit water (Tip 2). The transport ride was around 90 minutes from the airport to San Zaccaria stop (Tip 2). We stayed at a Best Western property, Hotel Bisanzio. This was a perfect location for exploring - friendly staff, breakfast included, and they had a room for 3. PLUS, it was one bridge and one alley away from the transport stop (Tip 3).
After dumping our luggage we headed straight to Piazza San Marco for cafe and people watching. We enjoyed cafe and hot chocolate at Caffe Lavena while people watching and listening to music. The Caffe is expensive but location, location, location. Feeling somewhat refreshed it was time to explore (Tip 4). Our walk took us to the Bridge Rialto which was under construction and ultimately to an early dinner at Trattoria Al Scalinetto (Castello, 3803-30122) - Mama in the kitchen, son waiting on tables. It was a perfect relaxing time to eat and let it soak it that we really were in Venice! Later in the day - another walk and gelato in San Marco Piazza (Tip 5).
On Monday, Day 2, we walked to the Peggy Guggenheim Museum and the Bridges of Graffiti exhibit. The Peggy Guggenheim museum presents the collected art of Peggy Guggenheim within her former home. She is buried on the property. I'll do another post about Peggy Guggenheim and the museum soon, I was inspired post-trip to read a biography on her life to learn more about this woman, her passion for art, and the history behind this museum. Per the website, the museum hosts "Cubism, Futurism, Metaphysical Painting, European abstraction, Avant-Garde Sculpture, Surrealism, and American Abstract Expressionism." A highlight of the experience were the photos within a room of that room with the specific paintings now on display combined with an exhibit of Jackson Pollack works including The Mural (no photos were allowed)!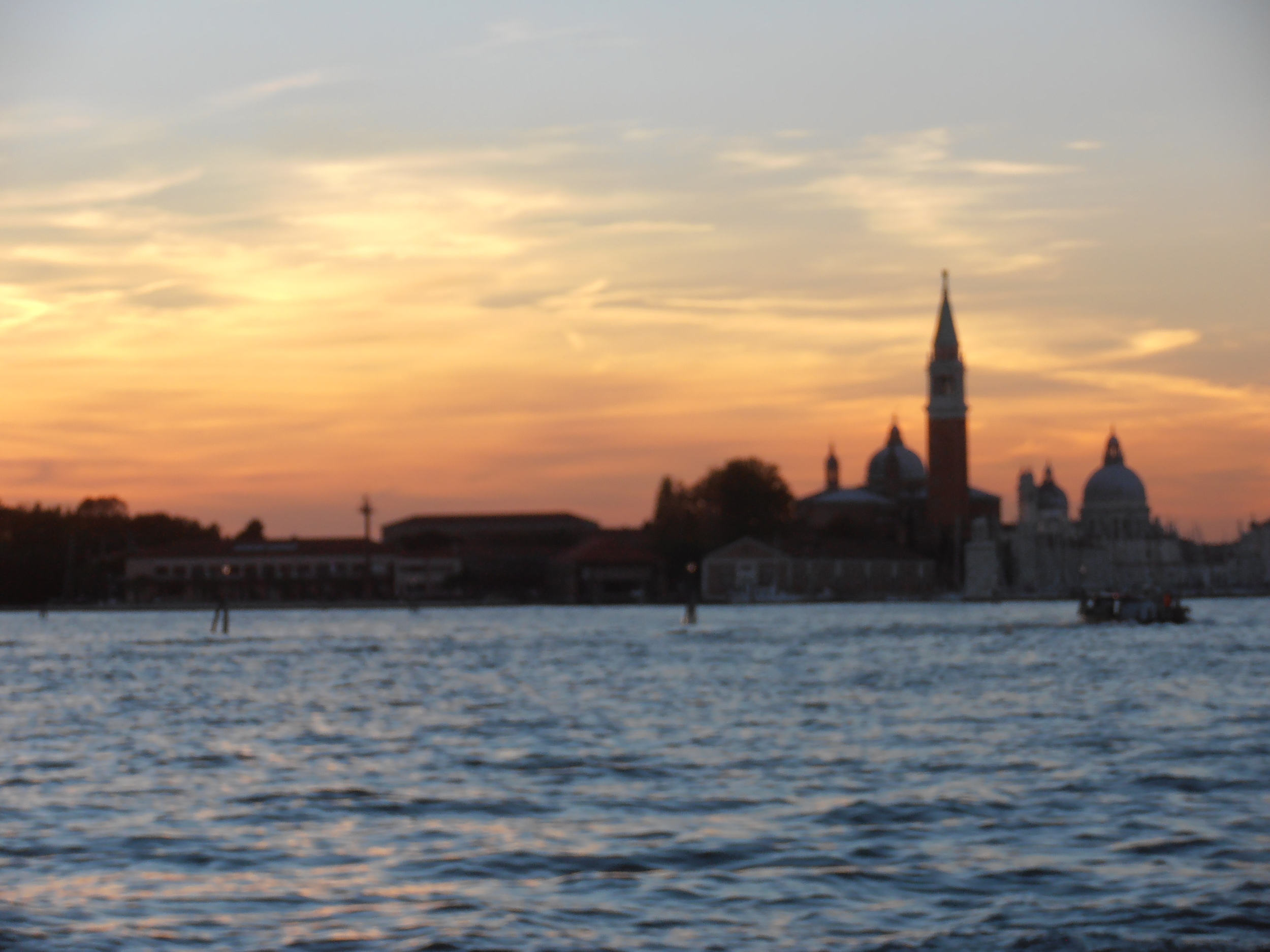 Starved - we had lunch on a lovely terrace at the Ristorante Lineadombra. This was an incredible pause - imagine a warm sun, sitting on a terrace over the water, great food, wine, and conversation with family. Perfect!
The Bridges of Graffiti exhibit at the ArteTerminal featured works by ten graffiti artists including Eron, Futura, Doze Green, Todd James, Jayone, Mode2, SKKI ©, Teach, Boris Tellegen, and Zero­T. I'll do another post on this exhibit and Venice street art - this was a highlight for me! Near this exhibit we saw two C215 pieces - a favorite street artist!
We finished this day by window shopping, eating pizza out of a window, and of course the coup de grace - enjoying gelato (Tip 7).
Tuesday, Wednesday, and Thursday we visited the 56th La Biennale di Venezia - Giardini and Arsenale locations along with various Collateral Events throughout the city. Founded in 1893 the biennale incorporates (a) country pavilions where each country has their own pavilion and exhibit addressing the biennale theme and (b) curated exhibits represented by individual artists invited to submit a work in keeping with the biennale theme. Two primary locations are the Giardini and Arsenale with multiple other venues throughout the city that are described as 'collateral.' The biennale is closed Monday but open other days from 10 until 6 PM (Tip 8). Our strategy was to visit Giardini on Tuesday, collateral locations on Wednesday, and then Arsenale on Thursday. Our thought was that we might need a break from the concentration of art at a specific venue such that walking from venue to venue might alleviate 'art fatigue.' This turned out to be a good strategy! In advance of the trip, we explored Biennale Top 10 lists and had a quasi- priority for pavilions wanted to see. Once at Giardini, we started with individual exhibits followed by the country pavilions. In hind sight, we thought it would have been better to prioritize the country pavilions and then if time see the individual exhibits. While there - remember the rules, stop for lunch and cafe in the afternoon. Both Giardini and Arsenale host beautiful views of the water...of course, there's really no bad views, just be sure to hit pause in the day to enjoy the location and people watch.
Venice is a wonderful city - I loved the Art Biennale, that Venice is a good walking city (Tip 9) and leisurely. There is are plenty of spaces to enjoy a cafe, snack, and just people watch. Often this is a great time to recalibrate as to where you really are because you're lost. (Tip 10). I like to window shop - there's plenty of small shops to be had for clothes, leathers, murano glass, etc. I'm already thinking towards 2017 when the biennale is hosted again. I would love to return!
Tips
1. You can pay what you want via private water taxi (estimated 120 to 125 euro) or you can take the public transportation for 15 euro one way or 27 euro/RT per person. I'd rather spend money on food and beverages than transportation!
2. Pack lightly. Remember that you are going to have to walk to the transport with your luggage, then once you arrive at Venezia, you have to transport your luggage to your hotel. Everything you bring has to roll or be carried. Don't overpack! Before you leave home - look at your Venice hotel website to determine the closest transport stop. If there are walking instructions once you arrive in Venezia, bring those too.
3. Select your hotel wisely! Logistics are important because you're going to fly in with all your luggage, then walk to the transport (See Tip 2), and then have to transport your luggage to the hotel. Any walking in Venice includes cobblestones and bridges and even with directions, there's a likelihood that you will get lost. We saw people late at night arriving with luggage and I thought good luck. Make it easy on yourself to select a hotel near a transport stop.
4. In the corner of the Piazza (opposite the San Marco Basilica there is a Tourist Information Center + a public restroom (WC). Pick up a brochure for the Art Biennale here that details the map and exhibits. You'll need coins for the for the public restroom - 1.50 euro. There is an attendant who can make change.
5. Eat gelato every day. Why? It's gelato. Because you're in Venice. And it's gelato.
6. Think leisure when it comes to eating. There's no other time like the present so just relax. My #1 rule for travel planning - have a few things you want to see with sufficient padding to sit, enjoy a meal, drink vino, and just be present. These sorts of moments cannot be rushed - they're to be savored. Venice is a city that calls for enjoying a cafe, people watching, and soaking in the beautiful sights.
7. If you have any notion of 'dieting' in Venice, then just stay home. That's a dumb idea to plan on denying yourself an integral part of the travel experience - enjoying the food - pasta, bread, cannoli's, pizza on the street, gelato, cafe, vino - you have to try it all.
8. Art Biennale - We purchased our tickets the day that we were visiting a venue, there was a short line wait. If waiting in line drives you crazy then purchase tickets in advance.
9. Venice is a walking city. Public transportation includes water taxis - otherwise, you're walking. Wear comfortable shoes! There are many bridges, cobblestone streets, and what you think is a short walk or distance is really 2+ hours because the route in indirect or you get lost (Tip 10).
10. You will get lost, turned around, disoriented, think you're one place only to realize you're somewhere else.This is Venice. Relax - soon you'll find a cafe, piazza, or some landmark that you'll see on a map and can get reoriented. If all else fails, look for signs for Rialto Bridge or San Marco - they'll show up eventually.